Relationship Marketing Workshop
Tue Mar 27, 2018
Relationship Marketing Workshop


"The Payoff of Powerful Relationships" presented by Marcia Whyte, Bestselling Author, Speaker, Trainer, & Founder/Chief Content Officer of GratitudeSpeak
Relationships are the new currency! Unfortunately, many business owners and sales professionals don't acquire, invest or spend theirs wisely.
That's about to change for YOU!
On March 27, business owners and their sales professionals are invited to learn the payoff of powerful relationships in brand authenticity, employee morale, effective networking, customer follow-up and retention. Relationship Marketing Strategist and Trainer, Marcia Whyte, will show you how exceptional relationship skills can turn indifference into loyalty in-house and beyond.
In this in-depth workshop, we will address the importance, practice, and art of:
Creating a customer service culture;
Having great conversations with potential partners;
Increasing client retention and referrals;
Fostering a team mindset;
Enhancing company/team morale; and
Making more money!
… all with #GraceAndEase (and a bit of concerted effort).
Do your business relationships with family members, employees, clients, or prospects need a check-up? Is it possible that you're leaving relationship currency on the table? If this sounds like you or your company, sign up today and start leveraging the power of your business relationships!
Meet Our Speaker: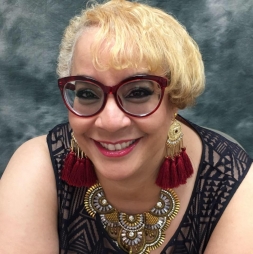 A native of Chicago, IL, Marcia Whyte moved south to Tennessee in 1996 and hasn't left yet. A product of Chicago State, Roosevelt Universities, and McCormick Theological Seminary, vocationally, she has enjoyed 30+ years in the ministry including successful pastorates. Professionally, she is a former paralegal enjoyed a longstanding award-winning sales career, and is now an entrepreneur and bestselling author. She is multilingual, fluently speaking: "Momma," "CEO," "Church," "Gratitude," and English.
As Founder and Chief Content Officer of GratitudeSpeak, a professional speaking and training platform, Marcia has always believed that relationships make the true difference in having a successful life and business. Having once enjoyed a lucrative sales career, built on relationships instead of merely transactions, she now shares her experience, knowledge, techniques and tips with other career professionals in order that they might be better equipped to enhance their work and life experience and make the necessary attitude adjustments when situations/environments are beyond their control. Her strategies, listening ears and ready smile, have built her reputation as "The Queen of Gratitude" in circles where she is well known.
From her own experience of loss to leadership, Marcia is well versed in finding 'Leadership in Loss' and 'Greatness in Grief'. She also firmly believes (and teaches) relationship over transaction in business. Her calling as a Life Coach is helping people work through tragedy to both find and rediscover their purpose. Her platform, as a Business Coach and Speaker, is teaching professionals to become fluent in the language and practice of gratitude!
Marcia has a growing base of satisfied clients, who seek her out for coaching, workshops, keynotes, and corporate training sessions.
When
Tue Mar 27, 2018
8:00 a.m. - 11:00 a.m.
Where
The Legacy Centre
6312 Kingston Pike, Suite 100
Knoxville, TN 37919