The Legacy Centre Speaker Series: Kick-Off to Family Business Celebration 2021
Fri Nov 12, 2021
The Legacy Centre Speaker Series: Kick-Off to Family Business Celebration 2021
Join us for our 11th Annual Celebration of Family Business

"Succession & Perpetuating the Legacy of the Family Business" presented by Drew Everett, Chairman of the Board and fourth generation owner, Bush Brothers & Company
The Legacy Centre is honored to welcome Drew Everett, Chairman and fourth generation owner of Bush Brothers & Company, as our special guest speaker at our Celebration of Family Business 2021 on Friday, November 12, at Friedman's Appliances! Bush's® Beans is the nation's leading bean producer and has been family-owned and quality-obsessed since A.J. Bush started the company in 1908.
Drew will share openly with us what his family has learned about succession and perpetuating the legacy of the family business. Succession has always been the hardest issue for multi-generational family businesses to face. After 113 years and six generations, the Bush family would know! Transitioning to 4th, 5th, and 6th generation ownership by descendants of A.J. and Sallie Bush has defied the adage of "shirtsleeves to shirtsleeves in three generations" by sustaining a legacy of values and family connection, stewarding wealth, caring for community, and empowering family members in each generation to leadership.
Who will carry on your company's legacy? Join us on November 12th and enjoy a lesson in how to design and update your succession plans from a highly successful family business that knows no matter how great your company is, "There is no success without a successor" (Peter Drucker). 
Roll that beautiful bean footage!

Reserve your seat now... We look forward to seeing you at Friedman's Appliances on November 12th and at our other celebration events!
Note: We're excited to host this event in-person at Friedman's Appliances again! We will not offer a virtual or recording option. Please be aware we will continue to follow health guidelines, including physically distanced chairs. Guests are not required to wear masks but are welcome to do so. Thank you! 

Meet Our Speaker: Drew Everett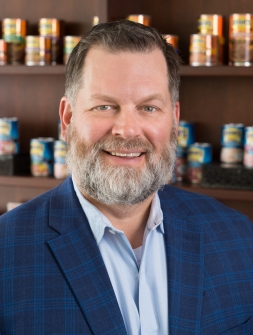 Drew Everett, Chairman of the Board at Bush Brothers & Company, is a fourth generation member of the Bush family. A native of Dandridge, Tennessee, he received degrees in Finance and Production & Operations Management from Virginia Tech. 
In the fall of 1993, Drew came to work for the family business. He has held many roles throughout his career at Bush Brothers & Company starting in the Information Services Department before transitioning to the Supply Chain and Operations team. As Production Manager, he successfully led the manufacturing population's transition to Condon's Plant – a new production facility at Chestnut Hill which is arguably one of America's finest food processing plants.   
He joined the Company's Board of Directors in 2007. In 2008, he was promoted to Director of Human Resources, and in 2013, he added Director of Shareholder Relations and was promoted to Vice President. In that capacity he led organizational and employee development of a highly involved, results oriented culture. This same philosophy has guided the activities of the Family to ensure successful transition to the 4th and 5th generation of ownership. Drew was elected Chairman of the Board in June 2015. He is a founding member of the Bush Family Senate, and the Shoebox Private Trust Company Board of Directors where he also chairs the Investment Committee. Drew now serves on the board for Second Harvest Food Bank of East Tennessee and the Editorial Advisory Board of Family Business Magazine. 
Drew lives in Knoxville with his wife, Melissa, and their two sons, Bennett and Cooper.

Coffee, light breakfast, and TLC served.

When
Fri Nov 12, 2021
7:15 - 9:00 a.m.
Where
Friedman's Appliances
9296 Kingston Pike
Knoxville, TN 37922