EntreVision Launches with a Call for Business Plans with a Difference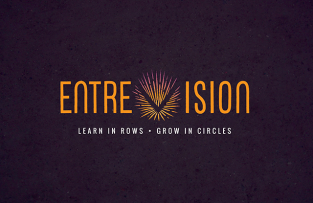 Jul 7, 2014
EntreVision Launches with a Call for Business Plans with a Difference
For Immediate Release

Knoxville, TN—Existing and potential entrepreneurs are invited to apply for EntreVision, a bold new multi-step engagement seeking to ignite the entrepreneurial promise of greater Knoxville. Applications are due July 11, 2014 at 12 noon.
The Legacy Centre recently launched its signature event to celebrate the local entrepreneurial community and the promise of greater Knoxville. EntreVision has far reaching potential in serving as a catalyst for immediate and long lasting positive change in the lives of entrepreneurs and the entire community.
EntreVision is a business plan competition with a difference. This is not a typical business plan competition. Because EntreVision seeks to launch leaders not just business, it is focused on growth and is designed to be practical, useful, and life changing from the start. Startups and existing entrepreneurial companies (with 25 employees or less) across all industries, including non-profits, are invited to apply with a new idea, product, or service. Applicants are not required to be members of The Legacy Centre. All entries must seek to do good, strike a commercial and social balance. Quarter-finalists will be chosen from the applications, which are due July 11th at 12 noon.
After going through an intensive growth process of labs, mentoring, and dinner circles in the homes of successful local entrepreneurs, the semi-finalists will defend their business plans. The Entrepreneur of the Year will be named from the finalists (3) at the EntreVision Finale with an award package including $10,000 cash for startup/growth. The other finalists will receive $2,500. See the complete schedule and awards package at www.tnlegacy.com.
This exciting new event series is a multi-step engagement that culminates each year in an After Party to celebrate entrepreneurs and spur on love and hope. The end goal is to shine a light on the promise of Knoxville with a collective gathering of people from all walks of life. At EntreVision LIVE on September 6, entrepreneurs and the community at large are invited to share a fun and inspiring evening in the heart of Knoxville with speakers and music to commemorate the 2014 EntreVision experience and celebrate the growing entrepreneurial spirit and innovation that thrives in greater Knoxville. It's a celebration and a convergence of minds to launch ideas and support for the future of our city and beyond.
The 2014 EntreVision LIVE event will take place on Saturday, September 6, at the Historic Tennessee Theatre. Details about the speakers and musicians will be released in the coming days.
"EntreVision has been three years in the making, and we could not be more excited to launch it now. There has never been a better time to breathe hope, love, and life into our businesses, families, churches, communities, and beyond! We are fighting for the highest possible good for our city, and we are convinced exciting things are about to happen!" said Cindy Seaver, President of The Legacy Centre.
Successful CEOs, entrepreneurs, and venture capitalists are invited to partner with The Legacy Centre as sponsors of EntreVision and to contribute to the success of entrepreneurs in our region.
Established in 2010, The Legacy Centre provides educational programs, professional resources and peer networks for family-owned businesses and entrepreneurs in Knoxville, Tennessee.
###
For more information about EntreVision and to apply, visit www.tnlegacy.com or call Cindy Seaver at (865) 384-2578. Obtain a quick overview of the program at http://eepurl.com/Xhuhr (Note: Deadline extended for July 11 at 12 noon).