The Legacy Centre Speaker Series with the Heins Family
Fri Sep 10, 2021
The Legacy Centre Speaker Series with the Heins Family
"A Century of Building a Greater Knoxville: What 100 Years & Four Generations Teach You" presented by Gordon Heins & Family, 3rd & 4th Generation Owners of A.G. Heins Company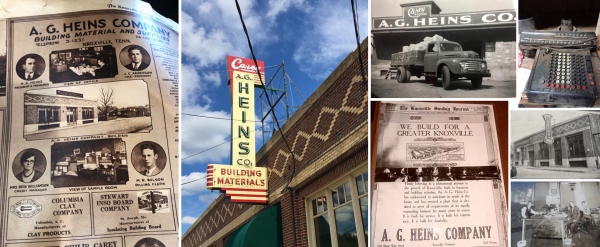 Forty years ago, Gordon Heins was on a plane to Philly with a good paying architectural job awaiting him, but his heart felt a tug back home. He recalls thinking, "I owed a lot to our family business. I figured it was up to me to give the family business a try." 
"My grandfather and I had a bet: He'd try to live to be 100 (A.G. Heins Sr. died at 97), and I'd get the business to be 100 years old," Gordon said. "I knew building, but I didn't know business. That took work." And 100 years later and by the grace of God, Gordon did the work and kept his end of the bet! Last year,
A.G. Heins Company
celebrated its 100th anniversary and four generations serving Knoxville's building supply needs. 
Join us for The Legacy Centre Speaker Series on Friday, September 10, with special guest speakers, Gordon Heins, 3rd Generation Owner & President of A.G. Heins Company, along with his three children, Jacob, Anna, and Alex, who serve key roles in the business. Together, they are honoring the family tradition that was started by A.G. Heins, Sr., in 1920 and innovating for future generations. From surviving the Spanish Flu and Great Depression to having a front row seat as the building supplier of massive building projects for time-honored places like the University of Tennessee, their storied history follows the life and times of the Knoxville community and highlights the growth and development of our great city.
Indeed this is a special family that has stuck to its roots, always strived to put its customers first, and survived despite the statistics. According to research, about 40% of U.S. family-owned businesses turn into second-generation businesses, approximately 13% are passed down successfully to a third generation, and 3% to a fourth or beyond (Businessweek.com, 2010). Come join us and see what sets the Heins family apart.
Reserve your seat now for this in-person event...or join us virtually! We look forward to seeing you at TLC!

Note: Please be aware that this event will be held both in-person at The Legacy Centre and virtually via Zoom. During registration, you will be given the option to choose in-person or virtual attendance. Virtual registrants will be emailed a link to the program one day prior to the event. Also, we will continue to follow health guidelines, including physically distanced chairs. Guests are not required to wear masks but are welcome to do so. Thank you! 


Meet Our Speaker: A. Gordon Heins, III, & Family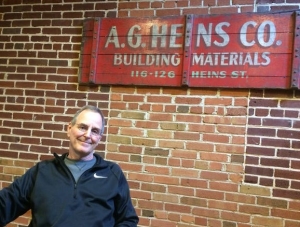 A. Gordon Heins, III, currently serves as President of A.G. Heins Company, founded in 1920 by his grandfather A.G. Heins, Sr. An architect by trade, Gordon joined his grandfather and father in the business at 27 as a technical consultant to architects, engineers, and contractors and assisted in the coordination of product promotion and sales. At one time in the early 80s, all three generations of the Heins family were involved in the operation of the business. Upon the passing of A.G. Heins, Sr., in 1984, A.G. Heins, Jr., served as president until his son, Gordon, was promoted to president in 1991. Prior to joining the family business, Gordon graduated from the UT School of Architecture and was a project manager with Boeing Engineering and Construction.
Gordon and his wife, Becky, have three grown children who hold key positions in the family business. In the mid 2000s, both of their sons, Jacob and Alex, joined the business to extend the legacy of the company into its fourth generation. As in the early 80s, at one time in the 2000s, three generations of the Heins family worked in the business. With the addition of their daughter, Anna, in 2012 the family legacy continues with four generations of family involvement.

Coffee, light breakfast, and TLC served.
When
Fri Sep 10, 2021
7:15 - 9:00 a.m.
Where
The Legacy Centre
6312 Kingston Pike
Knoxville, TN 37919