TLC Member Spotlight: John Thaller


Family Firm Marks 50 Years of Salad Making
A Member Spotlight on John Thaller, President, House of Thaller
by: Cindy Seaver, President, The Legacy Centre

House of Thaller is celebrating its 50th anniversary this year.
The refrigerated foods manufacturer specializing in co-packing private label dips, hummus, and deli salads officially opened in the summer of 1964 as "House of Thaller" in a three-room building in Knoxville, Tennessee. It moved to a new plant in 2002 and expanded its footprint again this year with a state of the art facility. This father-son enterprise, led first by Henry and John Thaller and now John, Wes and Jordan Thaller, is in its third generation and has grown from a handful of workers to more than 100 employees strong.
The company sells ready-to-eat products like pimento cheese, chicken salad, and hummus to almost every major chain in the United States. Yet you will seldom see the House of Thaller logo in your local grocery store! Clever move, indeed. Instead, they produce dozens of nationally recognized recipes packed under regional and national brands. In the South you will find their premium deli salads, seafood dips and numerous brands of hummus at Food City, Fresh Market, Harris Teeter, Kroger, Target, Publix, and Winn-Dixie. These items are packed under private brands, such as Fresh Market, Kroger Seafood, Food City Premium, Archer Farms, Tomato Head, Eat Well-Embrace Life, Palmetto Farms, and Harris Teeter.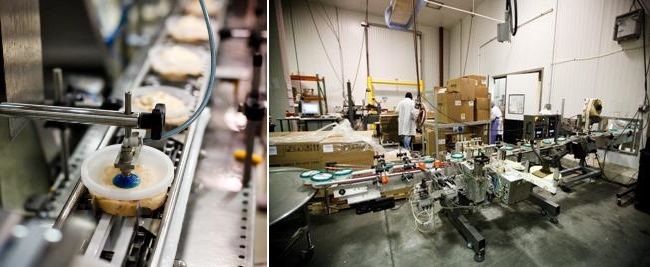 It all started with several high stakes decisions, a detour or two, and one huge leap of faith.
Henry and Aleene Thaller dreamed of going West. When an interstate job with a friend didn't work out on the west coast though, Henry took a job as the manager of a new salad plant in Charlotte, North Carolina. What seemed to be a detour turned out to be a pivotal moment in establishing the family's connection with the salad industry and teaching their son, John, the value of a strong work ethic. Beginning at age 13-14, John made the eight-mile trek on his bike during the summers to work the 4 a.m. shift in food production with no air conditioning for over two years. When John was beginning high school, the family packed their life into two station wagons and headed to Los Angeles finally to make their dream a reality. Money was good in L.A. as Henry had started a salad program with a very large dairy, but unfortunately, John's brother was deathly allergic to the L.A. smog. The family of five moved again – this time to Phoenix, Arizona. Then, in the mid-'60s, the Thallers wound up on the road again for the last time, traveling to Knoxville with Henry's desire to start his own business and to be near Tennessee family.
House of Thaller was born with an infusion of cash from family and friends who believed in Henry's dream. A good businessman and salesman, Henry was a little ahead of his time. Culturally in the '60s, snack foods were not commonplace yet. As time would tell though, salad sandwiches and dips became American staples and proved to be a risk worth taking. Besides that, Henry's concept was quite innovative - to sell their products under names of other companies, simultaneously bringing high value and brand recognition to the consumers as well as gaining a competitive advantage in the market place for House of Thaller. Selling under private labels served their clients' interests of developing a national brand.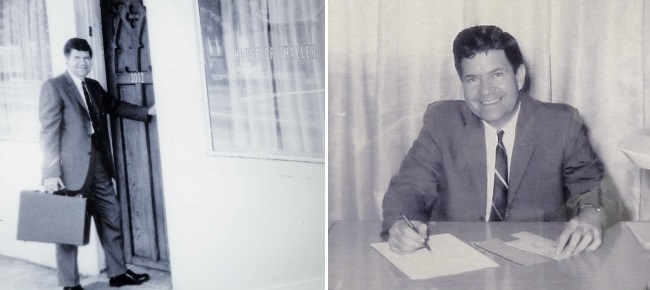 With a surplus of entrepreneurial spirit, good ol' fashion hard work, and ingenuity, Henry and John started the business. In the early years, Henry pedaled his Chicken Salad and Pimento Cheese to dairies across the southeast while John attended the University of Tennessee full-time and supervised production each day after classes. After serving in the Peace Corps, John considered another career plan, but the desire to see his family's business succeed lured him back to the U.S. Before long, they were packing private brands for dairies across the South and eventually nationwide.
"We've always believed if we do the right thing, success will follow," said John Thaller. And so it has.
John attributes three keys to the company's success and longevity: maintaining relationships with employees and customers while meeting company needs, staying committed to the highest possible quality of product irrespective of price, and having a strong faith.
"At House of Thaller it's more than a job; we are family," seems to permeate the culture. Even though the company has grown from 25 to 100 employees in a short 10-year period, House of Thaller has maintained a sense of belonging and family. John is motivated by a deep responsibility for his employees, empowering them to do their best and putting safety standards in place that improve their quality of life at work. Employee interest, dedication, and training have resulted in one of the lowest manufacturing rates available for Workers Comp coverage, which translates not only into a savings for the company but also a safe environment for employees. Employees enjoy what they do, and the company has an impressive employee retention record.
This employee focus is evident in the company's core values: strong employee relationships, food safety, quality products, customer partnerships, and sustainability. House of Thaller operates in a highly regulated industry. Therefore, setting the standard for food safety is first priority especially with diversification of products, evolution of equipment and employee needs. Through its commitment to sustainability efforts, the company is able to simultaneously control costs and help the environment by utilizing timers on equipment, electronic motor controls, plastic and cardboard recycling, and contracts with suppliers to reduce packaging bulk and waste whenever possible.
Much of House of Thaller's success must be credited to the unique father-son partnership shared between Henry and John and now John with Wes and Jordan. Still, John advises other business owners to be cautious to encourage children to take part. John never pressured his children to join the business. Yet both sons chose to be involved in daily operations. Wes holds the Corporate Vice President role, and Jordan is the Director of Logistics for transportation nationwide. All three owners/partners are graduates of the University of Tennessee with John being the first family member to attend college. Especially since 2002 when the company moved from Tazewell Pike to its new location near Rutledge Pike and Wes joined the business, John has taken pride in empowering his sons to thrive in the business and develop into leadership roles. Unlike most father-son enterprises, they listen and share thoughts and ideas equally.
Another figure who had an indelible impression on the business and especially its name was Aleene Thaller, John's mother. During the Thaller sojourn to Knoxville, John's mother became burdened for orphans and wanted to develop a place for children who didn't have a home. She envisioned this to be an extension of the business, and thus the name, House of Thaller, was formed. Unfortunately, business profits did not come quick enough to realize her dream, but the company philosophy of a "family of employees" did continue and employees still today offer help and assistance to their peers at levels not normally experienced in the 21st century.
From the beginning, the Thaller family wanted the company to create a sense of responsibility for family and employee relationships that could give back to the community and manifest itself in different ways according to the needs of the employees and the community. Ironically, 50 years after the "House" first opened, grandson Jordan and his wife Ange have become foster parents. Every Wednesday for 12 years, Linda, John's wife, with the help of dedicated volunteers has made hundreds of sandwiches, which are then delivered and handed out downtown "under the bridge" for the Lost Sheep Ministry to feed and care for the homeless and misplaced people in Knoxville.
Because John is keenly aware of the challenge to manage a business and not let it become all-encompassing, he and Linda have worked diligently in finding balance in life and work by sustaining family relationships. In fact, Linda has championed 35 consecutive family reunions and hopes the family will carry on the tradition. These days, John and Linda's greatest joy together is sharing the experience of living on a farm with their six grandkids.
Three generations. One vision. As the family looks to the future, each generation weighed in on what he envisions for House of Thaller. It is interesting to note they all seem to be on the same page, honoring and building on the family tradition.
First Generation (Circa 1964): [Henry…] To grow a new business to support the families of our employees; to develop and sell products superior to our competition; and to create a working environment conducive to teamwork and employee satisfaction.
Second generation (2002 upon moving to a new plant): [John…] Through the use of our new facility, we are dedicated to constant improvement; to meet our customers' needs in a timely, courteous manner. We will maintain impeccable standards of sanitation and food safety procedures. We plan to utilize the latest technological advancements in food handling, equipment design and plant sanitation to grow our business to the next level.
Third generation (2014): [Wes…] House of Thaller maintains a responsibility of continually improving the market in which we operate and the environment in which our associates work.  Through our products, employees and social interactions we strive to impact our community and industry environmentally, socially and economically.  Our vision is placed in action through focus and programs implemented to support sound growth while maintaining the integrity and traditions of our company, inspiring our employees to be the best that they can, participating in activities and actions to the benefit of society, environmental stewardship and a commitment to customer service. [Jordan…] Vision - To be one of the nation's top refrigerated foods manufacturers, known for quality, innovation and commitment to its customers. Our mission is to provide all our customers with exceptional service and quality, while creating a work environment that nurtures employees and their families and will always adhere to our core beliefs.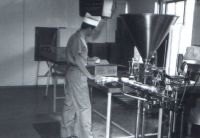 When asked what John wishes his legacy will inspire, he said, "I hope my children will remember to help others." He desires House of Thaller to be remembered for being a good employer, responsible to customer needs and the commitment to providing quality products and services. After three generations and a 125-year tradition of combined Thaller family salad making experience already, they are well on their way.
The proof is in the salad.