Our Story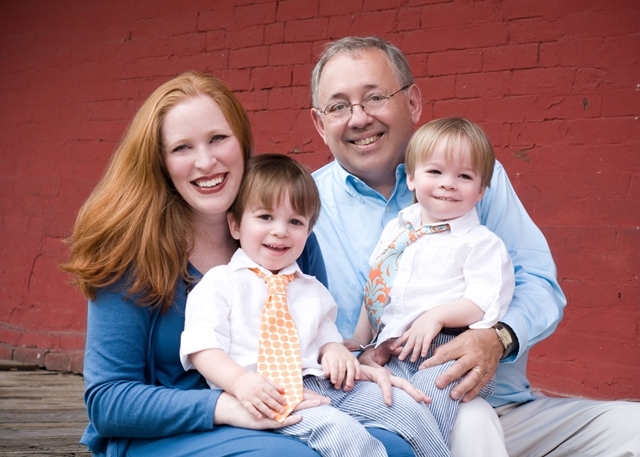 Like most of us, the journey has had its share of twists and turns, and we've had a few detours. That is for sure. The truth is neither one of us thought we would be doing what we are doing right now. That's what is both ironic and beautiful about this story. It is a story of rebirth, God's grace, and finding purpose for your life no matter how your story began. As we sit in awe of where we are now, we are convinced that all of this - our family, our business - is part of a bigger plan, because we could not have planned this if we tried.
Sometimes to find meaning, you have to go back to the beginning. So our story begins...
Growing up, Ed's dad was a mortician in Bristol, Virginia, and his grandfather had been a mortician with W.C. Seaver & Sons in Marion, Virginia. (Poor) Ed could not stomach the idea of carrying on the family business. At the time baseball seemed so much more appealing, but we joke that he was just a wimp (no offense to our friends in the funeral business!). Long story short, Ed was the first in five generations not to be a mortician. (Considering what we do now, that sounds terrible, doesn't it?) Instead, he got his undergraduate and masters degrees in Psychology, because he was curious how people think.
I (Cindy), on the other hand, had my heart set on helping people. Typical girl with a plan, I had it all mapped out. Planning on being a pediatrician and possibly doing some type of mission work, I majored in Biology (Pre-Med) and minored in English at Carson-Newman College, immersed myself in college life and countless leadership ventures, was mentored by some incredible staff people, and then found my passion was not just to help people but specifically to see them reach their full potential. Later, I worked in higher education, received a masters degree, and concentrated my research and interests in the areas of leadership development, values formation and influence through relationships in particular. 
So here we are both at the end of our educational degrees (not at the same time of course!) and still no clue what was in store.
Fast forward, we are married, Ed was befriended by a business associate about an idea to help family businesses. Ed was enamored by the idea and worked with all his might to make this happen. I was by his side, assisted him, saw the benefit of what we were doing to help family businesses, but I never really shared his passion.
To Die Is Gain
Then, life happened - some of those detours that I referenced earlier, and we found ourselves at the beginning again. Our little twin blessings, Blake and Wesley (pictured above), were just over one year old. It wasn't easy, we cried, our faith was tested, but by God's grace we made it through it. 
Still, Ed was very passionate about family business. As anybody can attest when they have gone through a difficult time, it is during those times when you grow the most. (Wouldn't it be great if you could just skip to the good part?) At that time I was reading a book about outliving your life, and the message kept ringing in my ears. When Ed shared that there was still so much more he wanted to do with family business, I knew, too, that this was what we were supposed to do. I cannot explain it except it was a God-thing. That was almost a year ago. We founded The Legacy Centre in November 2010. Today, November 7, 2011, here we are - launching an amazing website, helping family businesses everyday, and truly grateful for the opportunity.
This past Friday at the November Speaker Series, Guille Cruze shared his personal story, how sometimes things have to die in order for God's plan to come alive in you. I wept. In a nutshell, I believe that sums up our lives over the past year... "For to me, to live is Christ, and to die is gain" (Philippians 1:21). Our life as we knew it died last year, but everyday we are reminded by even the little things - encouraging words, people who have rallied around us, etc. - that we are alive, God's plan is at work in spite of us.
Let me say this. Ed and I are not perfect. We fail everyday. We are not a typical couple, family, or business, but who is? Right? We are two people who love Jesus, our family and friends, and now our extended family of Legacy Centre members.
Religion, No. Faith, Yes.
...Because that is who we are. Somebody asked us after the program last week if we are going in a religious or business direction for our programs. Good question. Nothing has changed; our mission remains the same - to connect generations by growing businesses and serving families. The mission itself is inclusive. In fact, we desire for each member to be real and intentional in every area of life; that is essentially what living your legacy means. As such, our speakers are expected to speak from the heart and mind. That means as a community, we will laugh, cry, and, yes, sometimes even disagree, but that is okay. Those experiences are benefits of being in community, growing in relationship.  
Our Legacy... Called to Serve Family Businesses
We feel called to do this. Helping family businesses in our community grow and thrive is an honor that we do not take lightly. Everytime we get to connect and share in relationship with somebody is a gift. Even now, I have tears in my eyes not only for what has happened but for what we believe will happen in Knoxville as our community of family business owners grows in number and in a spirit of compassion and service to one another.
East Tennessee is known for its southern hospitality and volunteer spirit. ...What if we were known for our hearts to serve, to lead for the benefit of others? It's time to see the greater Knoxville business community make more positive impacts in the lives of our families, employees, and customers. Let's connect, grow, serve Knoxville and make that happen!
Join Us and Live Your Legacy.
We hope that you will join us on this journey. Our desire for you is to connect with our community of families so that you will receive the encouragement, support, and resources that can help you grow your personal and professional potential.
This is our personal story. It is what we want our legacy to be. It is a legacy of rebirth, grace, and clarity of purpose. What is your story, your legacy for the next generation of your business? Live your legacy today.

Love,
Cindy & Ed Seaver
Founders, The Legacy Centre