Member Benefits
Why should you join The Legacy Centre?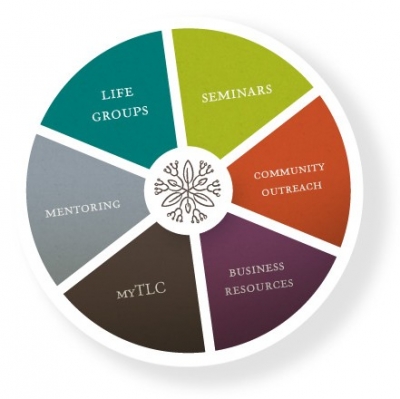 The Legacy Centre provides opportunities to Knoxville family-owned businesses and entrepreneurs for lifelong learning through educational programs, peer advisory groups, and professional resources. Above all, we are a community of business owners who care about each other personally and professionally. We seek to encourage, inspire, and challenge one another to be better.
If that is not reason enough, we have compiled 10 reasons for joining The Legacy Centre which highlight the benefits of annual membership. Together, these benefits, along with an intangible benefit that you will have to experience for yourself, are what we like to call the
Legacy Centre Experience.

Get Connected! Connect personally and professionally with a dynamic community of family business owners and entrepreneurs.
Community
is an important hallmark of TLC. Central to all we do is the value of living and learning in community. Furthermore, The Legacy Centre is a
member-driven community
that values and thrives on relationships. Members will have countless opportunities to develop meaningful and productive relationships, glean wisdom, and grow their businesses, as they continue to aspire to excellence in their personal and professional lives.

Be inspired! The Legacy Centre produces a comprehensive program of educational seminars and resources throughout the year, including The Legacy Centre Speaker Series and Generations Blog.
Aimed to educate, inspire and celebrate our members, the
Speaker Series
features prominent family business owners and other professionals that share in-depth knowledge and insights on issues directly relevant to living and working in a family-owned or closely held company. TLC's
Generations Blog
is an educational resource that answers the real, sometimes raw questions that occur in the family business enterprise. It exists to advance and to assist family-owned businesses and entrepreneurs who seek to build a legacy for future generations.

Obtain in-depth training and professional development for optimum business success.
The Legacy Centre
Lunch & Learn Series
is a monthly/bimonthly mini educational workshop in a small group setting that gives members the freedom to ask questions and seek training on professional topics pertinent to their business success.

Find encouragement and wisdom from other family business owners and entrepreneurs through our Life Groups.
Life Groups
, TLC's signature peer advisory group program, provide a safe, strictly confidential opportunity for members to grow personally and professionally. Life Groups are comprised of up to twelve participants who meet monthly to discuss personal business issues and concerns with their peers and a facilitator. There are three main types of Life Groups: positional, topical, and interest-related.

Empower and be empowered. Mentorship opportunities at The Legacy Centre allow you to be on the giving and receiving end of mentorship.
The Legacy Centre facilitates and encourages its members to build
mentoring relationships
that are designed for both the CEO as well as the 'Gen 2/3' family member in the business.

Find your place to serve and give back to the community!
The Legacy Centre coordinates several
service-oriented opportunities
to help meet needs within the Knoxville business community. We believe that the act of service - giving of yourself with no expectation in return - will transform your life and the lives of those around you for the better.

Enjoy community socials and family gatherings that invite members to develop personal relationships with other business owners and their families.
TLC hosts quarterly community parties and family gatherings for members and guests to connect and socialize after work. Commitment to family is a vital part of The Legacy Centre. When you nurture the family within your business, you are making a sound investment in the overall health and sustainability of your family enterprise.

Grow your business potential. Legacy Centre events offer you countless opportunities to network and to build successful business partnerships.
Between the online exposure and the plethora of programs we host, members have numerous opportunities to network and to build business partnerships with some of the most successful, well-respected business leaders in Knoxville.

Gain access to an exclusive online subscription to our members-only, password-protected site.
myTLC Community
is filled with interactive tools and
business resources
, including a member directory, program videos, Bulletin Board, TLC Helpline, and the ability to ask business-related questions and seek advice on
Ask the Expert
. ...Not to mention our
Generations Blog
on the public site - our gift to the family business community at large!

Join TLC in recognizing and celebrating the accomplishments and valuable contributions of family-owned and entrepreneurial companies in this region.
The Legacy Centre presents two annual celebrations and awards competitions,
East Tennessee Family Business Awards
and
EntreVision
.


Experience TLC
New Here? We encourage you to join us at our next Speaker Series so you can experience TLC firsthand. Guests are welcome to attend two programs while considering membership. Learn more about becoming a member here.
Let's Build a Relationship
Drop in our office or let's meet somewhere. We would love to sit down face-to-face over coffee or a meal and talk about your life, business, and wherever else that takes us. We look forward to getting to know you, helping your business grow and prosper, and enjoying the journey in service to one another.
Becoming a Member
When you are ready to become a member, use our online Membership Application to join. If you are interested in learning how to become a Partner with The Legacy Centre, please contact Ed Seaver at [email protected] or (865) 386-6248.
Contact Us
Please feel free to contact us if you have any questions about membership or our services.