The Legacy Centre Speaker Series with Jared Nichols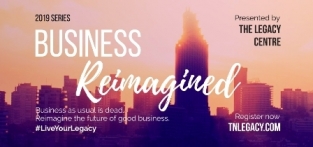 Fri Jan 11, 2019
The Legacy Centre Speaker Series with Jared Nichols

"Business Reimagined: Creating the Future YOU Want to See" presented by Jared Nichols, Principal of The New Futurist, Founder of The Foresight Academy, and Faculty Member, Haslam College of Business at The University of Tennessee

We are honored and excited to welcome Jared Nichols to kick off 2019 with our new series, "Business Reimagined", at The Legacy Centre Speaker Series on Friday, January 11. Jared is known across the country as an authority on strategic foresight. His core principles of foresight, innovation, and reinvention have transformed people and businesses, large and small.
Most people today, including many leaders of established companies, are preparing for someone else's idea of the future rather than creating the kind of future they want to see. But, there are always a few among us, who dare to envision something better and take the actions needed to make it happen. On January 11, strategic foresight expert Jared Nichols will help you learn how to develop the mindset and skills these individuals possess, so that you can start creating the best possible future for yourself and the people you serve.
Our new series, Business Reimagined, is a call to wake up from business as usual. Business is about so much more than just profits. Good business disrupts the status quo, seeks to do good and create positive change from the boardroom to the cash register. As business leaders, it is our right and responsibility to build, protect, and empower what we value and care about most for future generations. As such, our mission statements as well as our everyday business practices should reflect the best of who we are - humanity over the bottom line, authenticity over deception, trust over mistrust, collaboration over competition, compassion over greed, and humility over pride and prejudice, among other things. With all of us working together to that end, good business can and will prevail.
In 2019, TLC will challenge family businesses and entrepreneurs in our region to reimagine what their business legacy could look like - how they can uniquely contribute to society and make an everlasting impact on their family, their employees, their customers, and the community for generations to come. We will help you answer:
If I could start all over again, what would I do differently, what kind of legacy would I envision for my company and my family? What pivots will I need to make in order to change the world (or my corner of it) for the better?
You are uniquely gifted to make a difference in this world. We invite you to rethink your legacy impact and start creating the business of your dreams with the choices you make today. It is never too late to make the changes necessary to create a better future. And the possibilities are endless. Seize them!
Join us on January 11th for an eye-opening, thought-provoking discussion with Jared Nichols about what you need to create a better future for yourself, your family, your employees, your business, and your city. Reimagine what is possible in 2019.
Meet Our Speaker: Jared Nichols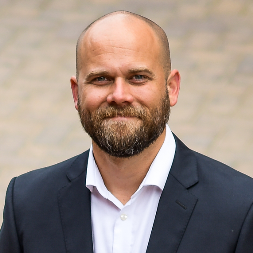 Jared Nichols is a futurist, advisor, and faculty member at the University of Tennessee's Haslam College of Business, in Graduate and Executive Education. Jared also founded The Foresight Academy. He teaches leaders, teams, and individuals how to think like futurists so they can create the best future for themselves and the people they serve. Learn more about why Jared does what he does... His insight and expertise is utilized across a wide variety of sectors and industries from Fortune 500 companies to government municipalities, entrepreneurial start-ups, as well as his work in Hollywood with accomplished actors, writers, and producers, helping them reinvent themselves and discover new areas for growth both inside and outside the bounds of their industry. Jared is also the host of the small business podcast presented by the National Small Business Association titled, The Road Ahead: Small Business in the 21st Century, which focuses on practical tips and insights for small business owners on how to grow, thrive, and contribute in a volatile and uncertain environment. In addition to hosting The Road Ahead, Jared also sits on the Board of Trustees for the National Small Business Association with a focus on equipping SME's with the ability to anticipate change and influence public policy in favor of small business growth.
Jared is also a musician, composer, competitive cyclist, and trail runner living in Charlotte, North Carolina, with his wife and their two sons.
His most recent accomplishment is becoming an official card carrying member of the Dollar Beard Club and is making plans to build a workshop and tame a wild animal.
Coffee, light breakfast, and TLC served.

When
Fri Jan 11, 2019
7:15 - 9:00 a.m.
Where
Friedman's Appliances
9296 Kingston Pike
Knoxville, TN 37922