Fireside Chat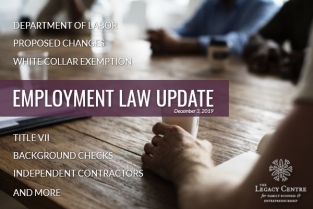 Tue Dec 3, 2019
Fireside Chat
Employment Law Update for 2020: Traps for the unwary employer. Are you prepared?

Business owners and HR professionals are cordially invited to attend a special breakfast edition of our Fireside Chat Series on Tuesday, December 3, from 7:30 – 8:45 a.m. at The Legacy Centre.  

As employers, there is a myriad of ever-changing state and federal regulations and policies that you are responsible for on a daily basis, and 2020 doesn't disappoint in mixing the pot again. Are you prepared?

On December 3, we are honored to have Eric Ebbert, an employment attorney with Wimberly Lawson, provide a critical employment law update for 2020. In this in-depth conversation about next year's top issues facing Tennessee employers, Eric will discuss a wide range of topics including the Department of Labor's proposed change to the White Collar Exemption for salaried employees, the question of whether the Supreme Court will greatly expand Title VII and its implications, the EEOC's recent $6 million victory against a Tennessee employer for using background checks, Tennessee's proposed law to regulate the independent contractor relationship, and other potential traps for employers.

Join us for a complimentary breakfast and an engaging discussion with Eric Ebbert and return to work with a plan for addressing these changes now and staying compliant in 2020. Seating is limited. Reserve your seat today!
Meet Our Speaker: L. Eric Ebbert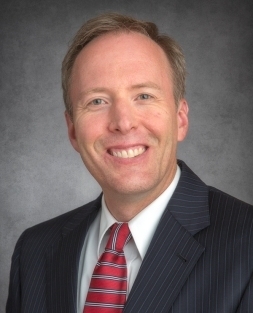 L. Eric Ebbert is a Member of Wimberly Lawson Wright Daves & Jones, PLLC, in the Knoxville, Tennessee office. He is licensed in both Tennessee and Florida. He practices in the areas of Labor & Employment law - management, business litigation, and health care liability.
His emphasis on Labor & Employment law includes counseling and defending employers in state and federal courts and before government agencies under Title VII, the Americans with Disabilities Act, Age Discrimination in Employment Act, Family and Medical Leave Act, Fair Labor Standards Act, National Labor Relations Act, and state employment laws; conducting high-level investigations; management training; and employment contracts. His litigation practice also includes real property, breach of contract, tort liability, products liability, and health care liability, as well as the full spectrum of business-to-business litigation. Eric has tried more than 30 cases, representing regional, national and multi-national companies, through all stages of litigation and appeals.
Eric received his Bachelor of Science degree in Accounting from Brigham Young University and his law degree from the University of Tennessee College of Law. He is admitted to practice in the United States District Court for the Eastern, Middle and Western Districts of Tennessee, the Middle and Southern Districts of Florida, and the U.S. Tax Court. Since 2007, Eric has served as a member of the District Investigatory Committee of the Tennessee Board of Law Examiners. He is a member of the American, Tennessee, and Knoxville Bar Associations, a member of SHRM, and a member of the Board of the Senior Citizens Home Assistance Service, Inc. Other associations, honors and awards... He devotes his personal time to family and church activities. 
Coffee, light breakfast, and TLC served. 
When
Tue Dec 3, 2019
7:30 - 8:45 a.m.
Where
The Legacy Centre
6312 Kingston Pike
Knoxville, TN 37919