The Legacy Centre Speaker Series with Congressman Tim Burchett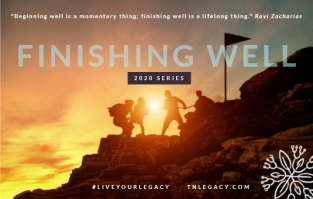 Fri Oct 9, 2020
The Legacy Centre Speaker Series with Congressman Tim Burchett


"Real Talk with Congressman Tim Burchett: A Legislative Update and Discussion of Small Business Issues" presented by Congressman Tim Burchett, United States Congress, TN-2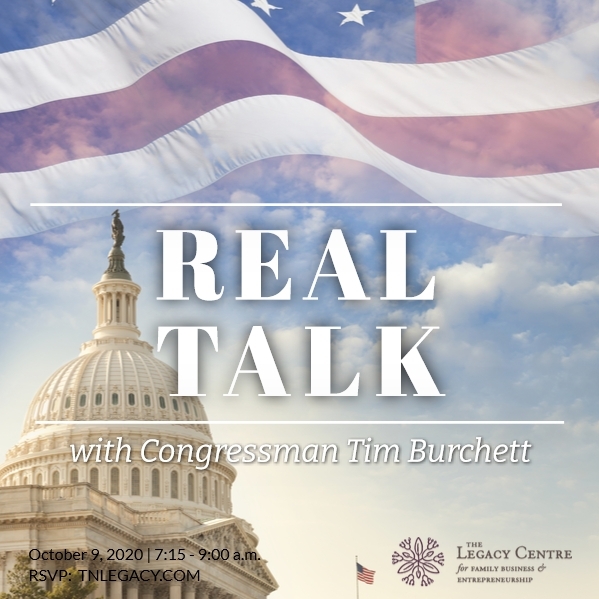 Fake news. Real news. Who can tell the difference anymore? These days media sensationalism dominates the headlines. Whether it's the latest on COVID-19, ongoing wars on Capitol Hill, or the upcoming Presidential election, the onslaught of news can be discouraging at the very least. And you may be left wondering how to even love your neighbor when you seem so far apart on the issues that matter most to you.
But take heart. For every divisive blow or cultural mishap that clamors for our attention, there is good happening behind the scenes. God is at work. Despite what the numbers say or how things look in the moment, He is still on His throne. Good will win, and He's using ordinary people – like you and me – to fulfill His extraordinary plan across the world and close to home. 
On October 9th, we are honored to welcome one of the good guys who serves us on the Hill – Congressman Tim Burchett – as our special guest speaker. Congressman Burchett has been fighting the good fight for us in one way or another for over 25 years – first in the Tennessee state legislature, then as mayor of Knox County, and now in the United States Congress. Whatever his role, you can always count on him to give it to us straight and represent the people he serves to the best of his ability. 
From the pandemic to the economy and small business concerns, Congressman Burchett will talk candidly about current affairs, share a legislative update, and discuss his ideas for pathways forward as a nation and as a state. Congressman Burchett will address his longtime passion for small business development, including his first stand alone bill recently passed in the House with bipartisan support to help small businesses get access to micro-loans. Currently, he's working on future legislation and policies for protecting small businesses from potential liability due to COVID-19. We'll also get a rare look into Congressman Burchett's heart for service, his faith, and his deep respect for his family's influence on his life and leadership. 
Note: Please be aware that this event will be held at The Legacy Centre office building (not at Friedman's Appliances). Also, be advised we will practice appropriate social distancing measures, including no-contact temperature checks at the door, sanitizing stations, etc. Due to local mandates and to ensure the safety of all, masks are expected. Thank you!
Meet Our Speaker: Congressman Tim Burchett

Congressman Tim Burchett took office in January 2019 after serving eight years as mayor of Knox County, Tennessee. During his administration, he cut debt, kept tax rates low, and paid for a new elementary school without adding debt. Before that, he started a successful small business prior to serving 16 years in the state legislature, four years in the State House followed by 12 years in the State Senate. Congressman Burchett currently serves on the House Budget, Foreign Affairs, and Small Business committees. His goals include supporting veterans, identifying free-market healthcare solutions and facilitating energy independence. 




Coffee, light breakfast, and TLC served.
When
Fri Oct 9, 2020
7:15 - 9:00 a.m.
Where
The Legacy Centre
6312 Kingston Pike
Knoxville, TN 37919