Thank a Business Week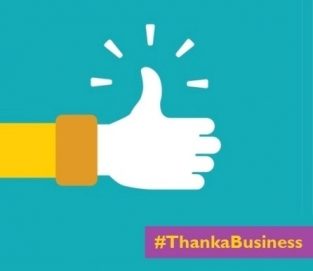 Mon Nov 16, 2020 - Fri Nov 20, 2020
Thank a Business Week
Great businesses make us all better. They not only contribute economically, but they inspire us with their innovation and creative capital, empower employees to give their best, and build up stronger communities... Do you know a business that has gone above and beyond to make a difference in Knoxville? Let's give thanks!
Know a great business that deserves a special thank-you?
Nominate them for The Legacy Centre's

Thank a Business Week
November 16 - 20
Nomination Deadline: November 13

TLC will be hitting the streets soon! Wonder if we'll make a stop at your favorite business? See TLC in action...
 
For the seventh year, help us #ThankaBusiness for its contribution to Knoxville. We're taking TLC to the streets and surprising a different business with some TLC every day between November 16 - 20!

Nominate a deserving business by sharing stories, photos, and/or videos with us using hashtag #ThankaBusiness via Facebook, Twitter, or simply email us at info@tnlegacy.com. Please submit your nominations by November 13. Nominees do not have to be members of The Legacy Centre.

If you would like to help surprise our recipients on any day during the week of Nov. 16 - 20, please call or text 865-384-2578 for details about joining TLC's #ThankaBusiness Patrol. More the merrier!
Watch Facebook for updates... We'll post daily hints and reveals about our surprise recipients. See TLC in action with our amazing past #ThankaBusiness recipients on Facebook.
Past Recipients
2014 Recipients: Elidio's Pizza, Memories Portraits, Quadriciser Corp, Servpro of Rocky Hill, Sequoyah Hills, S. Knox, Stowers Machinery
2015 Recipients: Admiral Title, The Bed Store, Business Machines Company, Friedman's Appliances, Knoxville Executive Suites, Mobley Brothers Roofing & Renovation, Tight Ship with Lisa Hall
2016 Recipients: Lawhorn CPA Group, GratitudeSpeak with Marcia Whyte, Patriot Threads, Studio Four Design, The Kenya Stafford Group
2017 Recipients: Allevia Technology, Altar'd State, Collier Restaurant Group, EST8Te, Kat Van Dusen/Mary Kay Consultant
2018 Recipients: Betz & Baril, Duncan & Sons, Integrative Health Approaches, oysk3 architects, Ross the Boss Inc. 
2019 Recipients: Harbours Gate, Heritage Investors, Interstate Mechanical Contractors, Strata-G, Weigel's
Remember to #ThankaBusiness every chance you get.
We all need a little encouragement to stay the course!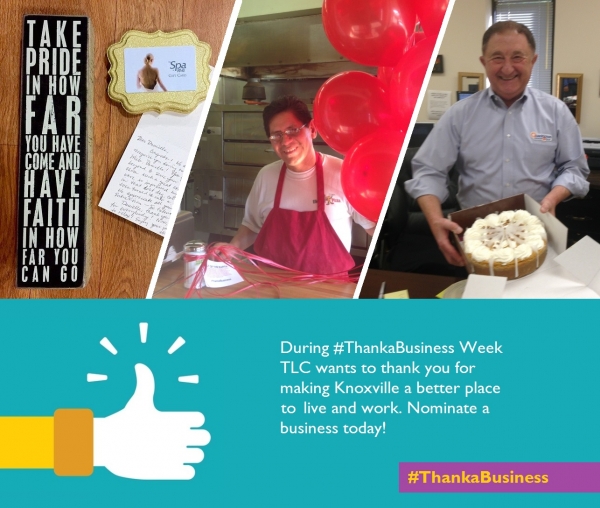 When
Mon Nov 16, 2020 - Fri Nov 20, 2020
Where
Various Knoxville Businesses
Knoxville, TN