Lunch & Learn Series
Tue Aug 24, 2021
Lunch & Learn Series
The Subject:
Cybersecurity for Businesses Today
Businesses are more virtual than they have ever been thanks to the global pandemic! As businesses continue to work remotely and adapt to changes in technology, it has become even more critical to make sure the appropriate cybersecurity precautions are in place to keep your data safe and secure. Unfortunately, stories of how businesses have had to pay thousands of dollars in response to these breaches have hit close to home for far too many local business owners already.
At our next Lunch & Learn, Joe Ray, owner of Hyperion Networks, will address these concerns and discuss solutions for your business' computer network system.
In addition to answering your questions, you will learn:
Outlook and statistics of cybersecurity risk to businesses today
Tools to prevent future compromise of your network
Best practices for incident response
Standard requirements to look for in cyber liability
Join us on Tuesday, August 24, and find out how to put cybersecurity threats out of your mind so you can focus on staying productive and growing your business.


The Expert: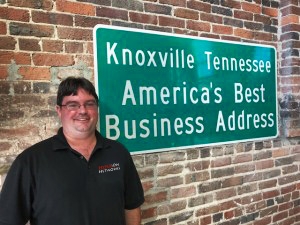 Joe Ray's passion is "helping to grow your business through technology". He is the founder and owner of Hyperion Networks, serving more than 4,000 customers in over 5 states with the finest services, equipment, network engineers and support staff in the technology consulting industry.
Hyperion Network helps businesses work more productively, leverage and expand their existing IT infrastructure to ensure business continuity, preparation for adapting trends in technology and telephone, and most of all, they help to ensure that from a technical perspective, your organization can concentrate on being aligned with consumer demands. Joe counts his staff as his greatest asset. Many have been in the business for over 25 years and deliver quality hands-on IT knowledge, care, and expertise, which is why Hyperion Networks has become one of the best names in outsourced IT.  
Joe received his bachelor's degree in IT and a minor in management from Western Governors University. He holds 25 IT certifications across a broad range of areas from Microsoft to cybersecurity. Joe and his wife, Micheala, have homeschooled their children for 14 years and enjoy traveling around the world with their family.
Lunch Provided.   
Note: The Legacy Centre's Lunch & Learn Series is a monthly/bi-monthly educational workshop in a small group setting that gives owners and key employees the freedom to ask questions and seek specialized training from experts on professional topics pertinent to their business success. 
When
Tue Aug 24, 2021
11:30 a.m. - 1:00 p.m.
Where
The Legacy Centre
6312 Kingston Pike
Knoxville, TN 37919