We Have Reached a One Year Milestone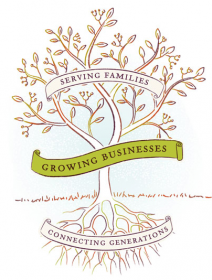 Nov 17, 2011
We Have Reached a One Year Milestone
It's a fine day to celebrate! One year ago today, November 17, 2011, The Legacy Centre was born. As we reach this milestone our hearts are grateful to so many people. Join us in celebrating our birthday and the people who have helped us get here...
First, let us say thanks to the special individuals that have invested their lives in us this past year. We consider them part of our family now. They believe in what we're doing and care about family businesses in our city as much as we do (or close to it at least!). Thank you for being there when we needed you - encouraging, inspiring, empowering, being a listening ear, catching the vision, and challenging us. By doing so, we believe that you have modeled what it means to be in the Legacy Centre community. Thank you for caring and for giving back to the community in so many ways. This milestone is as much a celebration of you as it is about The Legacy Centre.
Another big milestone that we celebrated recently was the launch of our new website on November 7th. This website has been created with love in partnership with two local businesses, Designsensory and Memories Portraits. It has been an honor and a pleasure to work with both companies! While words will not be enough to express our appreciation, we will try.
Our friends at Designsensory (DS) designed and developed The Legacy Centre's logo, stationery, and website. Not only are they a fun and talented group of people, but we couldn't be happier with the finished product or our relationship. We love all their work, but they have poured their hearts and souls into this one for sure!
Along every step of the journey the DS team listened intently to our vision and interpreted it with great skill, creativity, precision and meaning. As a result, the website is dynamic, engaging, beautiful, bright, fresh, and unique - just some of the words that I would use to describe it. Every element has such depth and character. The website is a delicate balance of tradition and imagination - much like the intersection of family business and entrepreneurship. Its tone is professional yet personable like the interrelationship of business and family. I am in awe of how well it has come together.
Probably what I like most about the website is that it offers a rich set of web based benefits for members while delivering a remarkable experience aesthetically and technically. When I say the website has only been a dream until now, that is exactly what I mean. The website is a dream come true, because I know that it will contribute to the success of the Knoxville business community as we seek to connect, grow, and serve family businesses and entrepreneurs in this region. Indeed, the people at Designsensory are special friends now, and we look forward to partnering with them again.
Celebrating their tenth year, Designsensory is an award-winning Knoxville-based digital agency that provides a holistic range of brand, print, web & interactive, online marketing, publishing and product design services. They create lasting connections between their clients and their clients' customers through the innovative use of design and technology.
Also, you won't be able to miss all the beautiful images of some of our members throughout the site. We are so grateful to Nancy Belden of Memories Portraits, for taking all the family, lifestyle, and professional photography. For over two years she has taken our family's pictures. We were so happy that she agreed to commit several days away from her little triplet boys to spend time with our community of families and share her gift of photography with them. As you can imagine, it is no small feat to get 11 families together for pictures. We pulled it off, and we are thrilled with the images we are able to share with you.
Memories Portrait's philosophy is "to help you celebrate every stage of your life with natural, elegant photography that fits your style, your family, and the way you live." Nancy's goal in every session is to capture personalities and relationships in an "emotional and storytelling way," which makes a difference in every photo she takes.
Whether it be through the rich set of web based resources or the beautiful images that speak to our community of families, we hope that you connect with our story - The Legacy Centre's mission to connect, grow, and serve family businesses. May the visual content and the words reach across the screen, touch your soul, give you hope, dare you to dream big, and encourage you to live your legacy. We are in the business of helping family businesses grow, but these are matters of the head and the heart. We look forward to sharing the next year with you as we grow in compassion and service to one another.