Helping Legacies Live On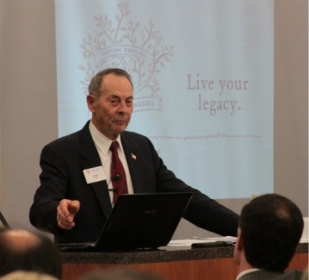 Feb 24, 2012
Helping Legacies Live On
Honored. Privileged. Enlightened. These are some of the words that describe our time with General Carl Stiner (Ret.) earlier this month at The Legacy Centre Speaker Series. With 128 business leaders gathered to hear a man of such great position and character, there was an immeasurable, contagious, and collective sense of admiration and renewed thirst for learning in the air. Undoubtedly, Stiner holds the military's highest rank as a four-star general, but it also quickly became clear that his leadership philosophy speaks for itself and applies to all walks of life, especially the family business enterprise.
With a wealth of experience, knowledge, and strong values at his disposal, General Stiner shared his views on life, leadership, and current affairs. As he relayed his leadership principles and practices that he used during his 35-year military career, Stiner detailed five qualities to achieve as a leader, including physical fitness, mental toughness, technical competence, teamwork, and spiritual soundness. With conviction he stressed that the relationship between God and man is fundamental and caring for family is essential to leadership success and a rewarding life.
Perhaps Stiner's commitment to the people he served resonates most with our family business community. Stiner challenged us to reflect on our motives when he said, "Real leaders lead for selfless reasons." Reminding us that "People are our most precious asset," Stiner shared his heart for the people that he served and cited the opportunity to touch so many lives as one of his most satisfying achievements. When he trained his officers, he always taught tough love, "It is your responsibility to put in all the love and care that you would put in your own son or daughter. If they fail or refuse to perform, then get rid of the slackers and nonperformers."
Before closing his talk, General Stiner shared 18 lessons on leadership from his friend and colleague, General Colin Powell.
General Stiner continues to live a legacy of influence by mentoring young leaders around the world with his leadership principles. He also serves as Chairman of Special Operations Warrior Foundation (SOWF), an organization that is very dear to his heart.
The Special Operations Warrior Foundation is a four-star rated charity for the sixth consecutive year, an honor that is shared by only three percent of charities. Last year alone, SOWF contributed $4.8 million in scholarship grants (not loans), educational programs, and counseling to the children of special operations personnel who were killed during a training accident or operational mission. SOWF has 141 students enrolled in colleges and universities across the country. SOWF also provides funds to the families of severely wounded special operations personnel to meet immediate needs when special operations personnel are hospitalized with severe wounds.
Can you imagine the heartbreak that these families experience upon learning their loved one has died and then the relief they have when they know that their children's college education will be gifted by SOWF? SOWF is giving these families hope and futures that they may have not had otherwise. Most importantly, they are helping the fallen officer's legacy live on in the lives of their children by providing the college education that their fallen parent would have wanted for them. This is evidenced by this testimonial from Jon Franciosa, the son of Command Sergeant Major Joe Franciosa who died during a parachute training mission, "The Foundation has given me confidence that my father is still providing for me…I hope more children in my situation can benefit from the Foundation, as I have, in their attempts to further their education."
SOWF makes this possible.
If you would like to learn more about SOWF and support this good cause, please visit their website at www.specialops.org.



Get connected to SOWF:
Special Operations Warrior Foundation
P.O. Box 13483
Tampa, FL 33681
P (813) 805-9400
F (813) 805-0567
www.specialops.org
In case you missed it, there were afternoon and evening news clips of General Stiner on WBIR Channel 10.
Members: Stay tuned for the video of Stiner's presentation, "Leadership & Mentorship: A Legacy of Influence," to be posted on the myTLC members-only portion of our website very soon.