Restored Hope Begins with $1.87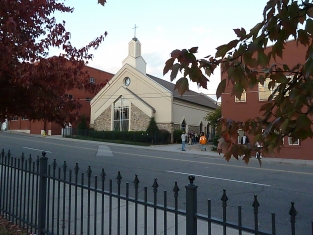 Oct 31, 2022
Restored Hope Begins with $1.87
What will $1.87 buy you? Maybe an orange or two, a pint of milk if you are lucky, or possibly a can of vegetables on sale... The fact is it will not buy you a hot meal – not even a Happy Meal anymore. While the price of life has gone up, there is still hope being restored on the streets of Knoxville daily. You see happiness is not found in a box or a full cart of groceries anyway. Knox Area Rescue Ministries (KARM) knows this.
Everyday, KARM serves 1,000 meals and is changing lives by meeting basic needs, building meaningful relationships, and sharing the love of Christ. For $1.87, they are able to provide a hot meal and much needed hope to the hurting and homeless people right here in our city.


Since coming to KARM, Raul said,
"I feel like I've found a new beginning to my life."
We, at The Legacy Centre, want to continue to be part of the life changing work that is happening right here in our backyard. We encourage you to partner with us and serve our neighbors this fall. Hope is being restored for $1.87. The many stories of KARM families finding shelter, children receiving an education and consistent meals, women escaping abusive relationships, and men finding much needed work…it all begins with you and $1.87.
With more than 1,000 families expected to seek assistance this Thanksgiving, the need is great! Here are some ways that we are serving our neighbors this fall. Get involved and make a difference!
Pennies from Heaven: November
Your change can change lives! At our upcoming Speaker Series on November 10, we will have Pennies from Heaven jars available for you to contribute to KARM's Thanksgiving Lunch Celebration. You can either make a one-time donation, or we invite you to display a jar in your place of business (or at home) and collect pennies to help feed the hungry this Thanksgiving. It's amazing how much spare change is lying around! Since a complete Thanksgiving meal is just $1.87, a jar full of coins can feed a whole table of hungry people who come to KARM this Thanksgiving.
$20.57 will feed and care for 11 people...
$50.49 will feed and care for 27 people...
Imagine how many meals we could provide if our entire TLC community of businesses joined together in this!
If you take a jar, please send your gifts to KARM with the form provided in your jar by November 21 (or donate at
www.karm.org
). We'd love to hear how much your team collects! While you're at it, snap a photo of your filled jar and send to
[email protected]
.
There is still time to start collecting! Give us a call, and we'll be happy to bring you a jar!
Thanksgiving Day: November 24
Thanksgiving is meant to be shared. Early Thanksgiving morning volunteers gather at KARM to prepare and serve a traditional Thanksgiving dinner with all the trimmings to some of the area's neediest. The meal is served to more than 500 guests from 11 am to 1 pm. Volunteers are invited to help set up, decorate, cook, serve, and most importantly, just visit, talk and pray with their guests.
On a day that is meant to be shared with family and friends, you can be a friend to someone you do not even know. What a blessing! Let us know if you would like to share in this special day of Thanksgiving.
How much hope can YOU give? It all starts with $1.87 and a willing heart. Let's share some hope this Thanksgiving!