Leadercast Knoxville

May 4, 2018 | 8:00 a.m. - 3:30 p.m. | Grace Student Center


Gather your teams... Pre-sale starts now!
The world is looking for great leaders to follow. In order to become those leaders to the outside, we have to lead ourselves first. We must walk the walk. It's like the flight attendants tell us: "Please remember to wear your own oxygen mask before helping others."
How do you lead yourself effectively? How do you develop your core principles and values so that your leadership is an outpouring of your innermost self? And how much more will those who follow you benefit from your leadership when you lead yourself well? In 2018, the speakers who will take the stage -- ranging from leadership authors to fighter pilots to astronauts -- will inspire you to lead yourself well first so you can better lead your families, organizations, and communities.
The Legacy Centre is very excited to present Leadercast Knoxville on Friday, May 4, 2018, at Grace Baptist's Student Center! It's going to be an amazing day t's going to be an amazing day to reignite the leader within you, to empower your team to lead well, and to connect and network with exceptional people across East Tennessee. Reserve your seat and show some love to those you lead with this limited time offer!


Check out our 2018 Leadercast speakers and pre-register your entire team at the low introductory rate of $75 per ticket (regular $100). Ticket orders must be postmarked by Friday, Feb. 23. Details below...


Registration Information
Pre-sale tickets to Leadercast Knoxville are only $75 each through February 23! That represents a $25 savings per ticket and includes breakfast, lunch, snacks throughout the day, 2018 Conference Journal, and more. Reserve your seat and show some love to the leaders in your life! Ticket orders of 9+ receive the Ultimate Group Experience package with priority reserved group seating, leadership resources, and other perks.

Prices will increase. You must postmark your order by Feb. 23rd to take advantage of this special introductory rate. Make checks payable to The Legacy Centre and send to our office at 6312 Kingston Pike, Suite 100, Knoxville, TN 37919.
Please email your guest names and business/organization. No physical tickets are distributed. Attendees will check in by name at the door.
Tickets are nonrefundable but transferable. If you have any questions, please do not hesitate to call (865) 384-2578.
Become a Sponsor
We are accepting sponsorships now! For the past seven years, we have been blessed to work with an incredible team of partners and look forward to a rewarding experience in 2018 as we serve local leaders with this one-of-a-kind event.
If you are interested in receiving premium advertising for your business and partnering with us to build up leaders in our community as a sponsor of this event, we invite you to look over our 2018 sponsorship packet and benefits. There are several levels from which to take advantage of various ticket packages, sponsor-only rates for additional tickets, exhibitor booths, and other advertising benefits.
To register as a sponsor or for more information, please drop us an email (cindy@tnlegacy.com) or call us at (865) 384-2578. We look forward to exploring together how we can serve your business and positively impact the leadership culture of Knoxville.
Here's our sponsorship package for Leadercast Knoxville 2018:
Here's a glimpse of what to expect in 2018...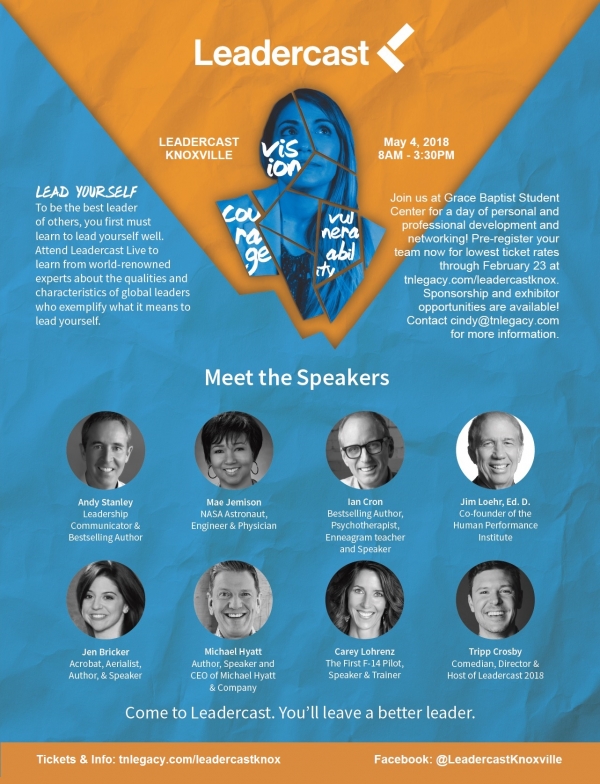 Just Added! Announcing Two More Speakers...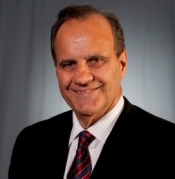 Joe Torre
is a Baseball Hall of Fame inductee, the Chief Baseball Officer for the MLB, Chairman of the Joe Torre Safe At Home Foundation, and a widely respected former baseball manager and player. He ranks fifth in all-time managerial wins and is a 4-time ESPY Award winner for Best Manager/Coach of the Year. Joe will entertain the audience with stories from his years as a player and coach in the MLB, but more importantly, will pass on his lessons of responding to failure and trusting yourself and your team.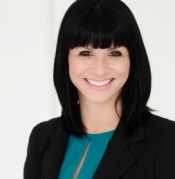 Catherine Hoke
is the founder and CEO of Defy Ventures, a national nonprofit that 'transforms the hustle' of current and formerly incarcerated people. Defy's vision is to end mass incarceration by using entrepreneurship as a tool to transform human potential. Cat herself was given a second chance in life, and her personal story of redemption and the power of possibility is an inspiration. Cat will teach the audience about the importance of new starts, forgiveness, creativity, and self-leadership.